What is it that I actually do?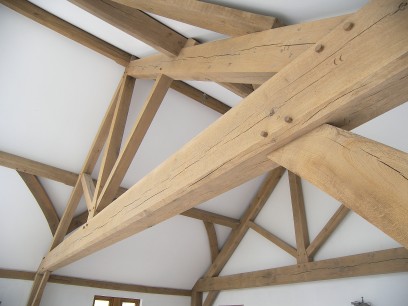 I design and build structures of any kind out of large section green timbers using traditional pegged joinery and framing techniques. This is a very specialist form of carpentry that requires many years training and experience to master to a degree that constitutes competency. It is quite different from any other form of woodwork, requiring an understanding of very different materials and methods. It can be applied equally well to traditional or contemporary new-builds, or to the conservation and restoration of old timber buildings.

I usually source beams bandsawn to size from the mill, and cut the frame from these using exclusively hand held tools, some are powered, such as the saws and drills and laser levels, while others are traditional hand tools like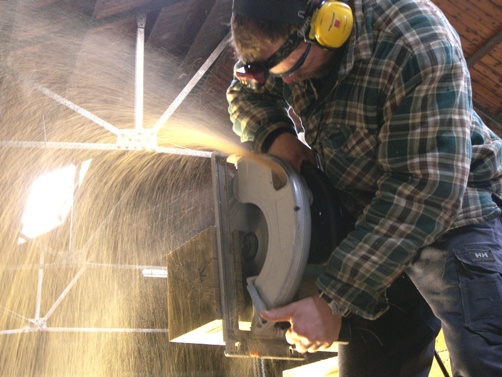 chisels, adzes and some very large hammers. Sometimes I mill up local timber on site or nearby using a mobile woodmiser sawmill.

The finished product is not necessarily historical in its design as I often construct contemporary structures, but the system, called Scribe Rule, which is used to achieve this end product is firmly rooted in traditional soil. This is not because I, or any other framer, are too rigid, unyielding or unimaginative to find new more modern methods, but because this is still actually the best and fastest method to produce a structural frame out of our particular choice of material, green large section timber. For more on scribe rule see the relevant sub-page on the "About oak frames" page or click on the link above.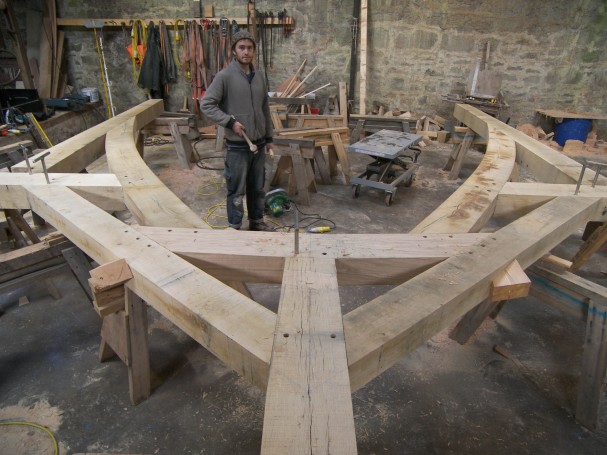 One of the great advantages of commissioning a frame from J.Rose Carpentry is that you get to deal with just one person throughout the project rather than the usual enquiries manager, frame designer, estimator, project manager and site team leader (gasp), which you might expect from larger companies. This means that when I am half way through the framing I will know the details of what was said in the very first meeting. This is a rare situation these days with most companies preferring a greater degree of specialization in their people to avoid training costs etc. I have filled all the posts mentioned above, at some time or another prior to becoming self employed, so I can reliably handle all aspects of a project right from the first enquiry to the topping-out of the frame.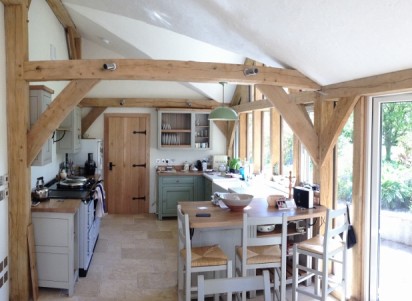 Regarding the actual product (jointed frames made of green timber) I try as much as possible to stick to what I specialize in, because this is what I am best at and what I feel most comfortable with. Hence my price to value ratio will be most competitive. I usually try to avoid straying into other types of carpentry such as conventional nailed structures, however I do undertake a range of work related in one way or another to the central Oak Framing theme.
This range includes:
- FIXED GLAZING applied to my own frames. For more on this go to the Glazing sub-page.
- FELLING and MILLING timber in or near the woods with a mobile sawmill eg: where the client ha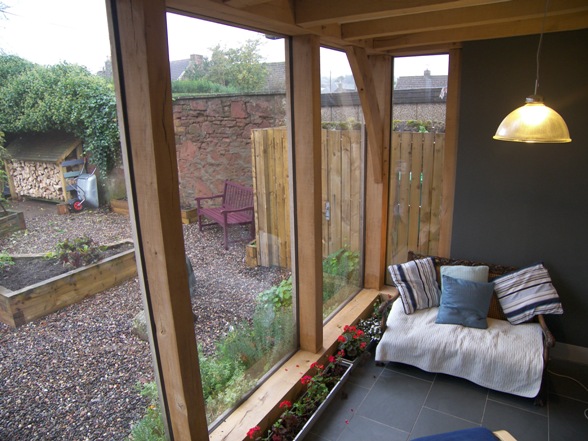 s access to their own trees and wants to use these to build the frame. I use a trusted subcontractor with a mobile woodmizer sawmill to do the milling under my guidance, and if the conditions are right it can be cost effective. It is always ecologically positive (see the sustainability sub page).
- CARVING :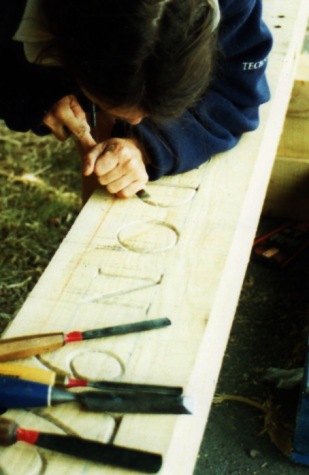 I usually carve a rose somewhere on my frames, either more or less prominently depending on the client's preference, but I can also do more extensive figurative or letter carving to the clients specification.
- COURSES :Organization and teaching of courses in traditional framing, which can be tied in with the building of a project for a client and may offset some of the frame costs. Not all projects lend themselves to this and it does have it's downsides, particularly programming and aesthetic issues regarding the end product, but it is great fun!
- CPD's for architects and engineers.
Having said above that I try not to stray from the traditional framing path, if I have gaps in my work load and/or if clients make special requests for some reason or other, I can undertake other carpentry work associated with the frame such as nailed stick framing or cladding the exterior with weatherboarding. The "Cash Feus" project is an example of this with decking and louvers to the balustrade undertaken as part of the package.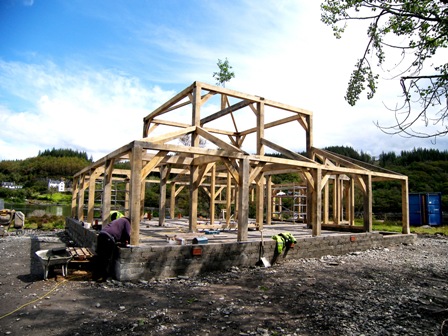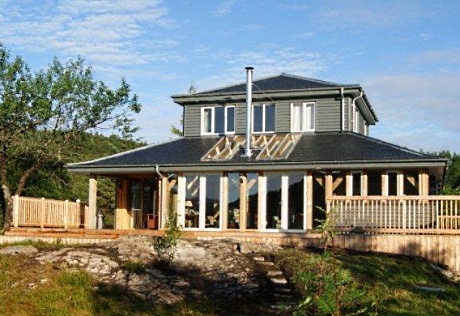 I do my work in as ethical and sustainable a way as possible having been ecologically aware all my adult life. My efforts in this regard are summarized at the bottom of the sustainability sub-page.
References: I run a rolling programme of client and architect referees. If a reference as to the quality of my frames and ancillary services is required, I will provide the contact details of the clients or architects from my last three completed projects. As you can imagine, future clients and architects can expect to be asked, by me, to provide the same in return after completion of their project! It will only be for a while though because soon more projects will have completed and others will be taking their place. I think that a rolling system of reference providers like this one reduces the chances of bias and means that a client unhappy with the service provided can have their say. I feel pretty confident that I'm not going to suffer too much from unhappy clients (gulp!), so I'm willing to provide these contacts to reassure enquirers of my integrity and of the excellent quality of my frames.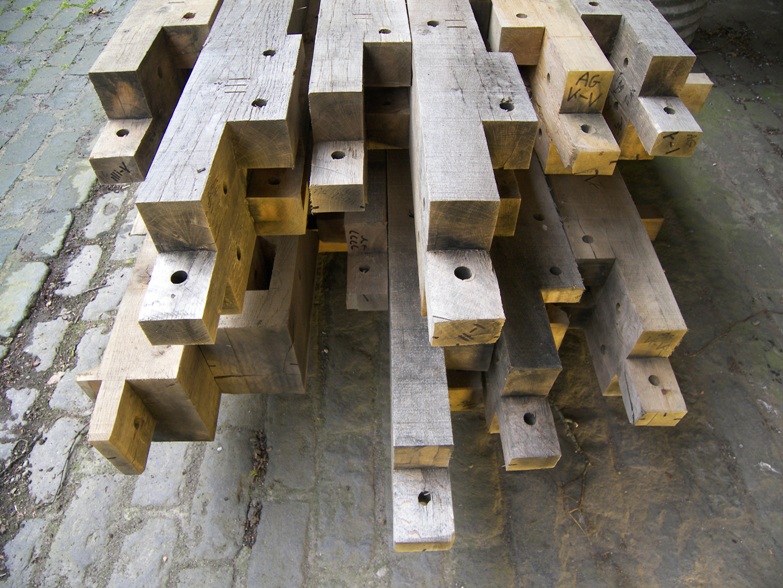 J. Rose Carpentry